Frequently Asked Questions
Is there still damage or ongoing construction from Hurricane Sally?
Many properties in our area are still recovering from the devastation that Hurricane Sally brought. We ask for your patience and understanding as some of our properties are still undergoing minior construction projects. We do our best to keep our listings up-to-date and relay all project information as we receive it, but please understand that in regards to property construction it is out of our control and we only know what is relayed to us by the property association and dates are subject to change. If for unforeseen events or delays a property will not be ready in time for scheduled arrivals, we promise to offer a full refund or (if available) relocate the reservation to another comparable unit or assist in finding a suitable replacement.
Is there a minimum age to rent?
Renters must be at least a minimum of 25 years of age.
Can I smoke in the unit?
All of our units are non-smoking.
What will be provided in my rental?
We supply a starter kit of supplies and enough linens to accommodate the number of guests reported.
What should I bring?
Beach towels
Sunscreen
Extra paper products
What are the check-out responsibilities and requirements?
Empty the refrigerator and discard all food and perishable items.
Remove all trash from the unit.
Load & run the dishwasher
Ensure all doors all completely shut and locked
*Failure to follow check-out instructions could result in an excessive cleaning fee.
Parking?
Most properties allow 2 vehicles per unit with the exception of Gulf Tower in Gulf Shores, AL.
Please refer to your rental agreement or listing if you have any questions about how many vehicles. If you are coming with more vehicles than allowed, below is a list for overflow parking: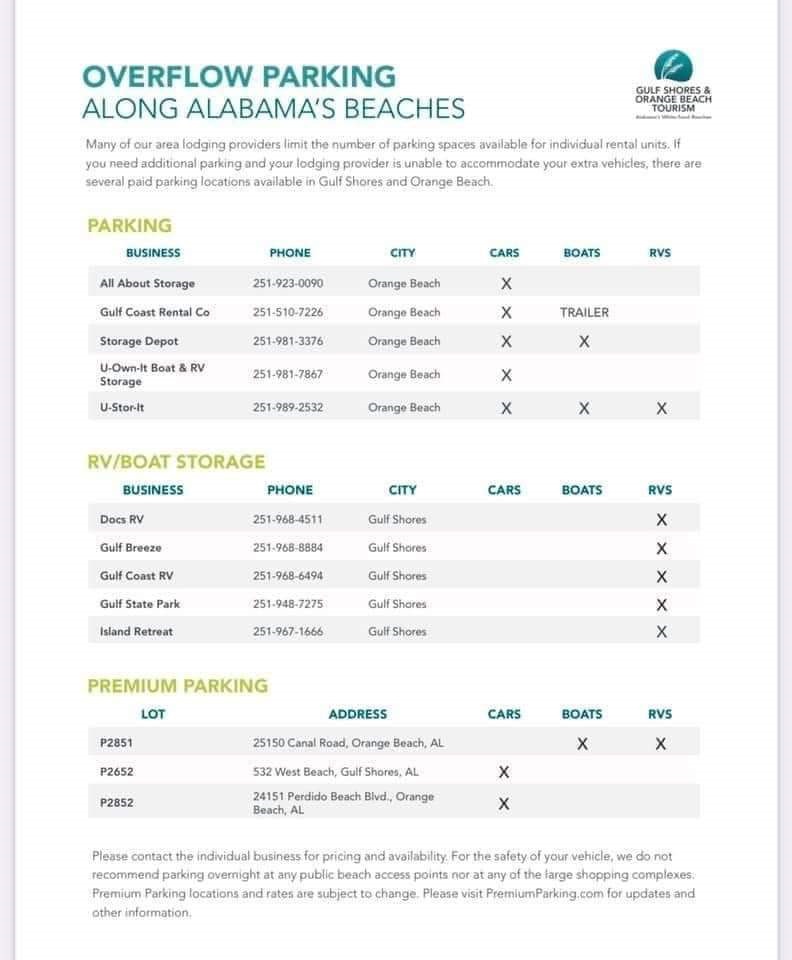 Are tents allowed on the beach?
Tents are permitted with some restrictions. All tents and beach items must be removed from the beach by sunset. Any items left after sunset will be removed by authorities.
Resources:
Do you offer travel insurance?
Yes, we proudly offer travel insurance underwritten by Nationwide.

https://www.travelprotection.insure/